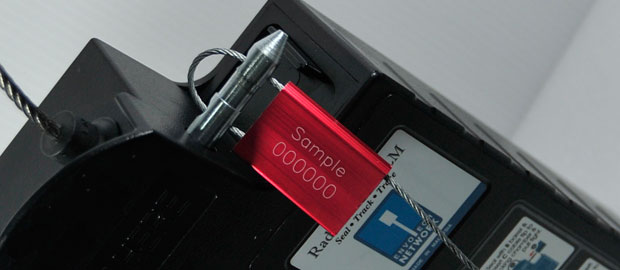 K-Flex is a variable length with high secured , single use seal made of high strength metal body , performed steel cable . It's available with different cable lengths to scure various application with different security requirement . The 3.5mm and 5mm diameter steel Cable Seals are ISO/PAS17712:2010 "H" Compliant.
Application
Freight containers
Tanker trucks
Utility meters & valves
Roll cages
Railway Freight
Key Features
High strength metal body, performed steel cable unravels.
Tamper evident non-performed steel cable unravels when cut.
Barrier protection – removable only with tools.
Suitable for temperatures ranging from -40 'C to 100 'C.
Unique locking mechanism for minimal reversal at engagement.
The one way locking mechanism secured into the locking body.
Suitable for securing valuables for long periods of time .
Available in standard colors , White, Blue, Green, Black & Red.
Special colors and cable length are available on request, subject to minimum order quantity.
Laser marking
Customize Letter or Outline Logo
Sequential numbering
Laser Barcoding
Body : Aluminium Housing
Cable : Galvanised or Stainless Steel