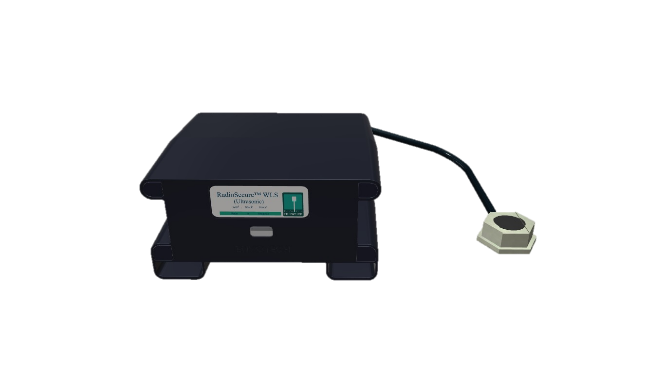 RadioSecure™ WLS is an integration of the precision ultrasonic level sensor technology with Envotech's Trademark RadioSecure™ container tracking and monitoring devices. 
The RadioSecure™ WLS is a family member of the RadioSecure™ range of products with wireless connectivity to the RS IVM (In Vehicle Monitor) or RS SLM (Seal Locked Master). RadioSecure™ WLS periodically reports fuel status wirelessly to the RS SLM or RS IVM which will report via GSM infrastructure to a hosted web base supply chain security and visibility. 
 This level sensor continuously detects the height of the liquid level in the tank with less than 1mm resolution. 
Ultrasonic sensor is capable of measuring up to a maximum of 2000mm deep with high precision. Continuity on both sophisticated technology produced a successfully trending product. 
The reporting frequency is also user programmable. This innovative real-time wireless level-monitoring solution works for all fuel monitoring applications. 
Application
Diesel
Biodiesel
Gasoline
Kerosene
Key Features
Wireless Fuel Monitoring
Intrinsic Safe Operation
Specifications
Model Number

RS-WLS
Radio Frequency Wireless Level Sensor
Physical
LxWxD
Weight
115mm x 57mm x 110mm
0.300kg

Environmental
Temperature
Humidity
Weatherproofing
-20˚c to +70˚c
95% non-condensing
IP65

Wireless
Frequency
Active Transmit Power
Rx Sensitivity
Range
Protocol
Air Data Rate
ISM 2.4GHz QFSK modulation
<18dBm(~100mW)
-100dBm
400m L.O.S
Proprietary
250kbps
Electrical
Backup Battery
Active Current Drain
Inactive Current Drain
Rechargeable 3.7v, 1.2AH Lithium-Polymer
100mA
0.015mA
Data

RF Packet Data Size
Measuring Range
22 bytes per FIFO
35 to 2000mm