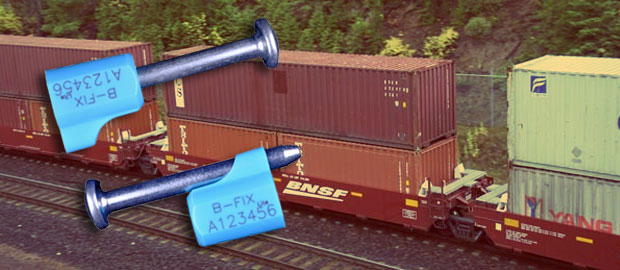 B-Fix Lite is classified as high security barrier seals as compliant to IS0 17712:2006 . The actual locking mechanism is embedded in a groove in the metal bush , making the seals stronger and more difficult to tamper ,the barrel is made of high quality ABS Material to with stand impact and reveal evidence of tampering. The barrel & pin are embossed High Security "H".
Application
Shipping containers
Railway containers
Trucks
High value storage
Key Features
8mm bolt diameter with head diameter of 19mm.
Suitable for temparatures ranging from -40'C to 110'C
Barrel & Bolt are joint for easy storage and handling.
Requires bolt cutter for removal .
Marking of serial numbers lasered on the barrel and pin for enhance security .
Bolt keeper sleeve for easy storage and handling.
Available for 70mm & 81mm Bolt length.
Available in standard colors , White, Blue, Green, Yellow, D/Blue & Red.
Special colours are available on request, subject to minimum order quantity.
Laser marking
Customize Letter or Outline Logo
Sequential numbering
Laser Barcoding
Molded logo is upon request.
Average Breaking Strength : > 1,500 kgf
Barrier : ABS Material
Bolt : Free Cutting Steel