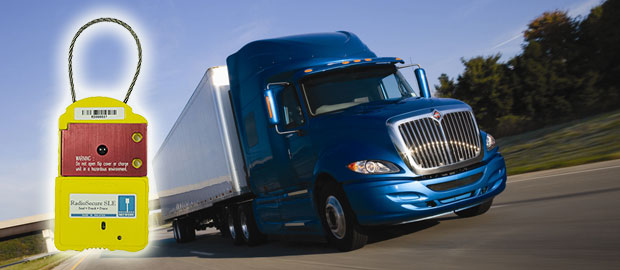 RadioSecure SLE is a creative innovation for tracking conveyances and assets. RadioSecure SLE is an enhancement over the RadioSecure SLA. In addition to security status, the device is also able to monitor and report environmental parameters like temperature and humidity. Optional light sensor available upon request. The Device offers this functionality in a self-contained unit at a size and price point not previously available.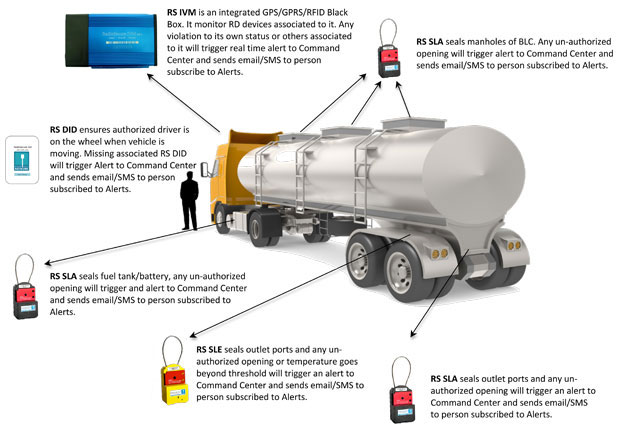 Function
RadioSecure SLE periodically reports security and environmental status wirelessly to RadioSecure SLM or RadioSecure IVM which will report via GSM infrastructure to a hosted web base supply chain solution. In the event of unauthorized unsealing or temperature/humidity goes beyond threshold, SLE will cause the RadioSecureSLM or RadioSecure IVM to trigger event heartbeat without any time lag.
* Optional light sensors are available upon request.
Ease of use
The Device can be operated by simply closing the Flip Cover. The Flip cover may be secured with one or two conventional pull-tight seals. Low cost per sealing, small footprint and rugged design make this Patent Pending re-useable cable locking Electronic seal a very versatile solution to practically seal almost any type of assets.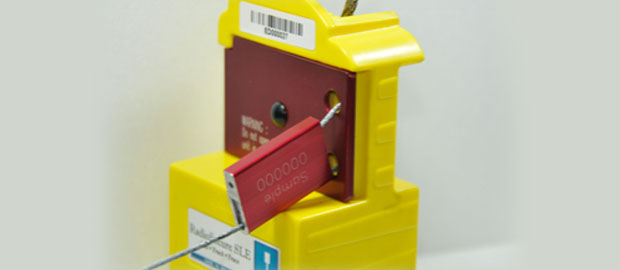 Application
Reefer Container Transport
Intermodal Container Transport
Web base security & visibility system
Multi Drop Cargo Tracking
3PL Thirdparty Logistics
Key Features
Security Seal with Temperature & Humidity monitoring .
Re-useable cable locking mechanism.
Requires no tool for removal.
Uses active RFID, GPRS and GPS technology
Low cost per sealing, small footprint.
Upto 400mtrs range (Line of Sight)
Optional Light sensors.
Specifications
Model Number
RS-LE-724C
RS-SLE-724B
Radio Frequency Cable Security Seal
Radio Frequency Bolt Security Seal
Physical
L x W x D
Standard Cable Length
Standard Bolt Length
Weigth
Color
95mm x68mm x 40mm
50cm
10cm
220gm
Environmental
Temperature
Humidity
Vibration & Shock
Weatherproofing
-20°c to +70°c
95% non condensing
MIL-STD-810-F
IP65
Wireless
Frequency
Active Transmit Power
Rx Sensitivity
Range
Protocol
Air Data Rate
Frequency Hopping
ISM 2.4GHz QFSK modulation
<18dBm(~100mW)

-100dBm
400m L.O.S
Proprietary
250kbps
FHSS
Electrical
Battery

Active Current Drain
Inactive Current Drain
Rechargeable 3.0V, 1.2AH
Lithium-Polymer
50mA
0.02mA
RF Data
Packet Data
32 bytes per FIFO
Mechanical
Break Load
>1000kgf ( cable )
>800kgf ( Bolt )
Environmental Sensing
Temperature
Accuracy
Humidity
Accuracy
-20°c to +70°c
+/-0.4C
0% - 100%
+/-3%