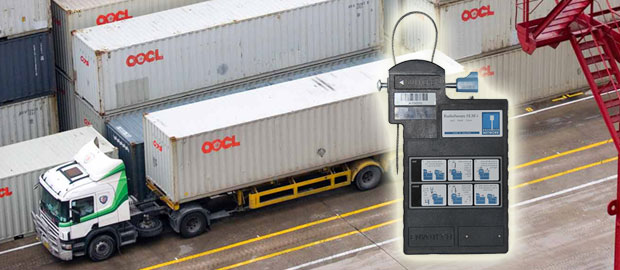 RadioSecure SLM-i is a creative innovation for tracking intermodal containers and conveyances using active RFID, GPRS, GPS and Satellite Communication technologies. The RadioSecure SLM-i provides security-tampering sensor more than a simplistic inspection system. RadioSecure™ SLM-i enables shippers, carriers and logistics service providers to actively monitor the security and integrity of shipments as their containers move throughout the global supply chain.
The RadioSecure SLM-i is one the base member of the RadioSecure range of products with wireless connectivity to the RadioSecure SLA, SLE, SLL or SLS. RadioSecure SLM-i periodically reports security and environmental status via GSM infrastructure to a hosted web base supply chain security and location visibility system. In the event of unauthorized unsealing or violation of any preset parameters, RadioSecure SLM-i will switch to Event Reporting to report the event without any delay.
The RadioSecure SLM-i has a GPRS fail-over to Iridium satellite feature when there is no GSM coverage and a battery pack three times the capacity of standard RadioSecure SLM.
Function
Functions as a stand-alone unit or couple up with RadioSecure SLA, SLE, SLL or SLS made the RadioSecure SLM-i very versatile. The Patent Pending re-useable cable locking mechanism makes the RadioSecuren SLM-i low cost per sealing and practically seals any assets.
* Optional temperature and humidity sensors are available upon request.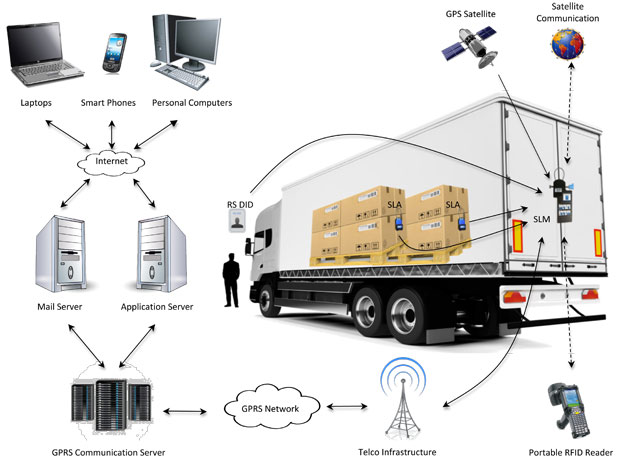 Application
Intermodal Container Transport
Web base security & visibility system
Global Asset Tracking & Identification
3PL Thirdparty Logistics
Key Features
Re-useable cable locking mechanism.
Requires a bolt cutter for removal.
Padlock is ISO17712 high-security seal compliant for intermodal shipping and ISO17712 indicative seal for closed-loop logistics.
GPS and GSM chips are embedded for location and communication capabilities
GPRS fail-over to Iridium satellite feature when there is no GSM coverage
Powered by rechargeable lithium batteries capable of lasting up to 270 days.
Specifications
Model Number
RS-SLM-324C
RS-SLM-324B
Radio Frequency Cable Security Seal
Radio Frequency Bolt Security Seal
Physical
L x W x D
Standard Cable Length
Standard Bolt Length
Weigth
Color
220mm x105mm x 55mm
50mm
13mm
1026.7gm
Black
Environmental
Temperature
Humidity
Vibration & Shock
Weatherproofing
-30°c to +70°c
95% non condensing
MIL-STD-810-F
IP65
Wireless
Frequency
Active Transmit Power
Range
Protocol
Air Data Rate
ISM 2.4GHz QFSK modulation
<18dBm(~100mW)
200m L.O.S
Proprietary
250kbps
GSM/GPRS
Channel


Antenna
16
Optional Extended Ephemeris A-GPS
3D Accelerometer (Optional)
Built-In GPS Patch Antenna
Electrical
Battery
Active Current Drain
Inactive Current Drain
Rechargeable
11.1V, 31.2AH
Lithium-Ion
240mA
0.3mA
RF Data
Packet Data
32 bytes per FIFO
Mechanical
Break Load
>1000kgf ( cable )
>1500kgf ( Bolt )
Accessories
Bolt header cable 12"
Disposable H-bolt 136mm
Reusable S/S H-bolt 116mm
K-Flex 1.5
Starseal 150
Custom cable length upon request
High Security seal configuration
To be use with K-flex cable seal or pull tight plastic seal
1.5mm cable seal, 300 pc per carton
Pull tight plastic seal, 1000 per carton