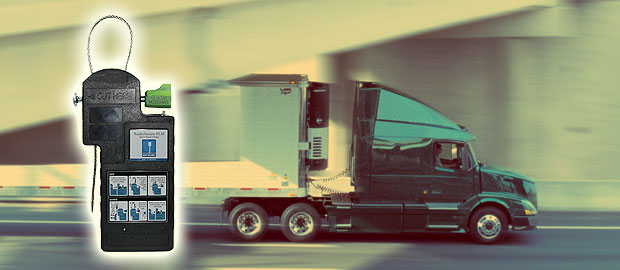 RadioSecure SLM is the latest electronic security seal innovation for tracking intermodal containers conveyances using active RFID, GPRS and GPS technology. This high security electronic seal enables shippers, manufacturers and logistics service providers and asset owners to actively monitor the security and integrity of shipments or asset as their goods move through the supply chain. The RadioSecure SLM is the base member of the RadioSecure range of electronic security seals with wireless connectivity to the SLA or SLS. It combines a electronic seal, GPS tracking & sensing device and a GPRS Modem with a high security cable seal / Bolt seal that can be fixed to any locking aperature. When the eSeal is compromised, the device sends event and location information immediately to the stakeholder. The Patent Pending reuseable cable locking mechanism makes the RadioSecure SLM a low cost per sealing electronic seal and practically seals any type of assets.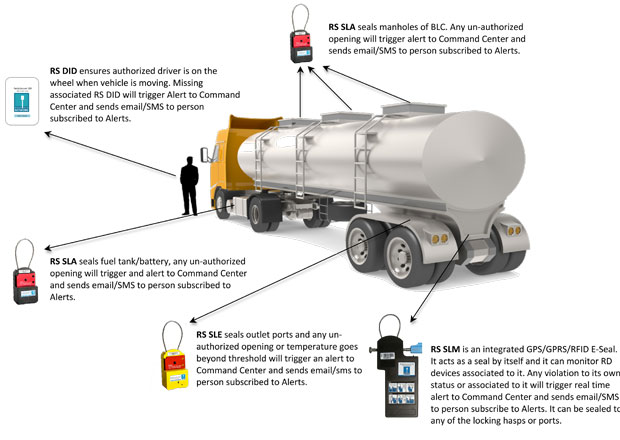 Images of usage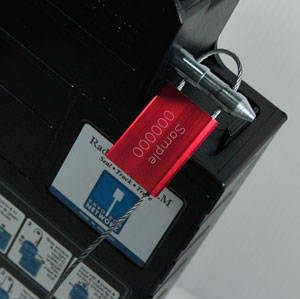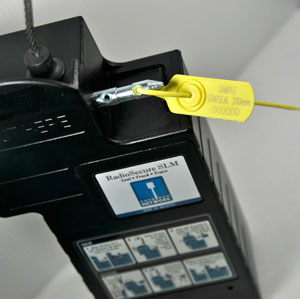 Function
The RadioSecure SLM monitors security status of itself and wirelessly monitors security status of its accompanying SLA/SLS and reports via GSM infrastructure to a web based supply chain security and visibility system. In the case of an Event (unauthorized Seal Tamper etc…) the Device immediately reports the Security breach. * Optional temperature and humidity sensors are available upon request.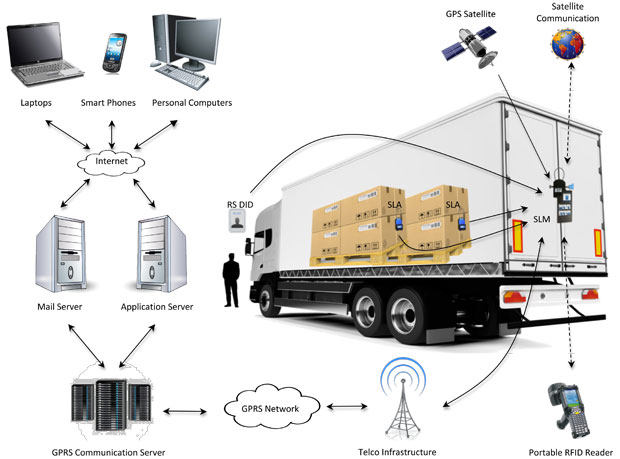 Application
Intermodal Container Transport
Web base security & visibility system
Global Asset Tracking & Identification
3PL Thirdparty Logistics
Key Features
Re-useable cable locking mechanism.
Requires a bolt cutter for removal.
Padlock is ISO17712 high-security seal compliant for intermodal shipping and ISO17712 indicative seal for closed-loop logistics.
GPS and GSM chips are embedded for location and communication capabilities
Powered by rechargeable lithium batteries capable of lasting up to 90 days.
Specifications
Model Number
RS-SLM-324C
RS-SLM-324B
Radio Frequency Cable Security Seal
Radio Frequency Bolt Security Seal
Physical
L x W x D
Standard Cable Length
Standard Bolt Length
Weigth
Color
220mm x105mm x 55mm
50mm
13mm
1026.7gm
Black
Environmental
Temperature
Humidity
Vibration & Shock
Weatherproofing
-30°c to +70°c
95% non condensing
MIL-STD-810-F
IP65
Wireless
Frequency
Active Transmit Power
Range
Protocol
Air Data Rate
ISM 2.4GHz QFSK modulation
<18dBm(~100mW)
200m L.O.S
Proprietary
250kbps
GSM/GPRS
Channel


Antenna
16
Optional Extended Ephemeris A-GPS
3D Accelerometer (Optional)
Built-In GPS Patch Antenna
Electrical
Battery
Active Current Drain
Inactive Current Drain
Rechargeable
3.7v,10.4AH (SLM)
Lithium-Ion
240mA
0.3mA"
RF Data
Packet Data
32 bytes per FIFO
Mechanical
Break Load
>1000kgf ( cable )
>1500kgf ( Bolt )
Accessories
Bolt header cable 12"
Disposable H-bolt 136mm
Reusable S/S H-bolt 116mm
K-Flex 1.5
Starseal 150
Custom cable length upon request
High Security seal configuration
To be use with K-flex cable seal or pull tight plastic seal
1.5mm cable seal, 300 pc per carton
Pull tight plastic seal, 1000 per carton