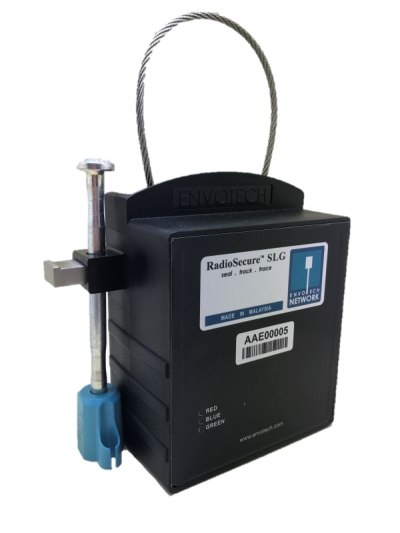 RadioSecure™ SLG-d is the latest innovation in the Radio Secure ™ family. It meets the industry's needs for a low cost yet reliable device to accurately tracks intermodal containers and conveyances using active RFID, GPRS, GPS and Satellite Communication technologies.
The RadioSecure™ SLG-d provides security-tampering sensor more than a simplistic inspection system. RadioSecure™ SLG-d enables shippers, carriers, and logistic service providers to actively monitor the security and integrity of shipments as their containers move throughout the global supply chain.
It is one of the base member of the RadioSecure™ range of revolutionary products with wireless connectivity to the RadioSecure™ Site Manager, Xtivator, SLA, SLE, SLL or SLS.
It periodically reports security and environmental status via GSM infrastructure to a hosted web base supply chain security and location visibility system.
In the event of unauthorized unsealing or violation of any pre-set parameters, RadioSecure™ SLG-d will switch to Event Reporting to report the event without any delay.
Specifications
Model Number
RS-SLG-D
RadioSecure SLG-d
Physical
LxWxD
Standard Cable Length
Weight per set
Color
140mm x 110mm x 65mm
15 inches
577g
Black
Environmental

Temperature
Humidity
Weatherproofing
-30'C to 70'C
95% non-condensing
IP67
Wireless
Frequency
Active Transmission Power
Range
ISM 2.4Hz QFSK modulation
<18dBm (~100mW)
200m L.O.S.

GSM/GPRS
Bands

SIM
Failover Option
GSM/GPRS/EDGE Quad Band
850/900/1800/1900MHz
Single SIM slot
GPRS failover to SMS

Satellite Constellation System
SCS Channel
A-GPS
GLONASS
Antenna
66
YES
YES
Built-In active Antenna
Memory Capacity
Flash Memory
RAM
DRAM
200KB
100KB
500KB
Electrical
Battery
Battery Capacity
Active Current Drain
Inactive Current Drain
Lithium Ion
3.7V, Option of 10.4AH, 14AH
<300mA
<3mA

RF Data
Packet Data
32 bytes per FIFO
Mechanical
Break Load
> 1000kgf (cable)
Consumable
Disposable SLG-d Cable 16"
Customizable cable length upon request