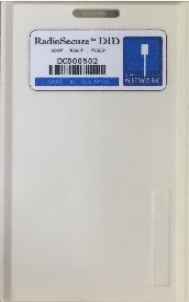 RadioSecure™ DID is a member of RadioSecure™ Slave product which has wireless communication capabilities with RadioSecure™ Master. It has unique Identification Number which is not repeatable and not programmable.
Light-weighted and pocket size friendly, the RadioSecure™ DID provides identification of driver who is responsible for the asset.
Comes with option of 40m or 60m communication range, the RadioSecure™ DID reports at an interval of 30 seconds. Low power technology enables it to have a 2 years battery lifespan.
Specifications
Model Number
RS-DID
RadioSecure™ Driver Identification
Physical
H x W x T
Weight per set
Color
86mm x 55mm x 55mm
±40g
White

Environmental
Temperature
Humidity
-30°C to 70°C
95% non-condensing

Wireless
Frequency
Active Transmission Power
Range
Protocol
Air Data Rate
ISM 2.4Hz QFSK modulation
<18dBm (≈100mW)
40m L.O.S. / 60m L.O.S
Proprietary
250kbps

Electrical
Battery
Transmission Interval
Battery
3 VDC
30 seconds
2 years